State University System of Florida, Department Chairs Workshop. Mission Inn, Howie-in-the-Hills.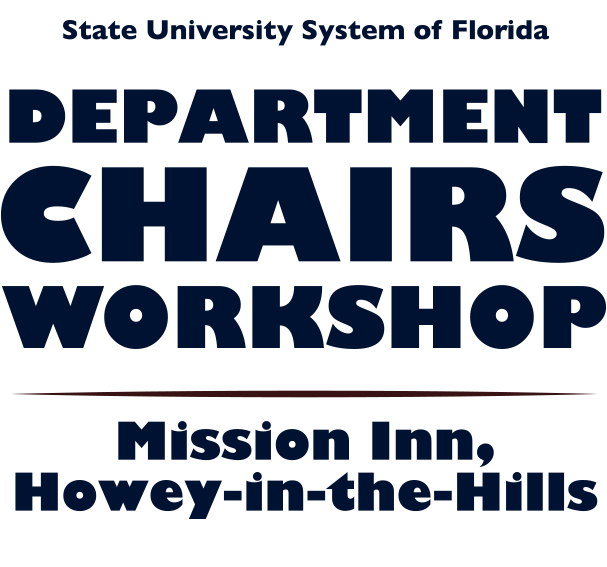 The chairs workshop is a two-session series—one session in the fall and the other in the spring. Each session has a different set of topics. The workshop is designed to be interactive and participative, rather than a lecture/listen format. Each topic to be discussed has an assigned reading period followed by small group discussion.
The purpose of these workshops is to support the development of the chair as an academic leader within the department and within the institution as a whole. The workshop is designed to stimulate discussion and enable interaction among chairs and provide an opportunity to discuss rules and procedures, legal issues, common frustrations, and many other topics of general interest.
Topics to be Covered
Fall
Faculty Evaluation and Performance Counseling
Dealing with Deans
Legal Issues Facing Chairs
Delegating and Using Committees
Faculty Assignments

Spring
Chair as Leader
Conflict Resolution and Management
Departmental Budgeting
Teaching Effectiveness
Departmental Missions, Goals, and Assessment
Workshop Dates

| | | |
| --- | --- | --- |
| Spring: | | Fall: |
| June 5–8, 2022 | | September 11–14, 2022 |
| June 4–7, 2023 | | October 1–4, 2023 |
| June 9–12, 2024 | | October 6–9, 2024 |
The chairs workshops will be held at the Mission Inn, Howey-in-the-Hills, Florida. Past workshops have been held here and attendees have given us positive feedback about the hotel. For a look at the amenities, visit the Mission Inn website. For information regarding the workshops, contact Anne Blankenship at (850) 443-6458, ablankenship@fsu.edu or Larry Abele, Director, at (850) 591-0358, labele@fsu.edu.
Workshop Attendees Since 2009